Communicating Health, Communicating Disease: Film Screening and Discussion, 25 March 2014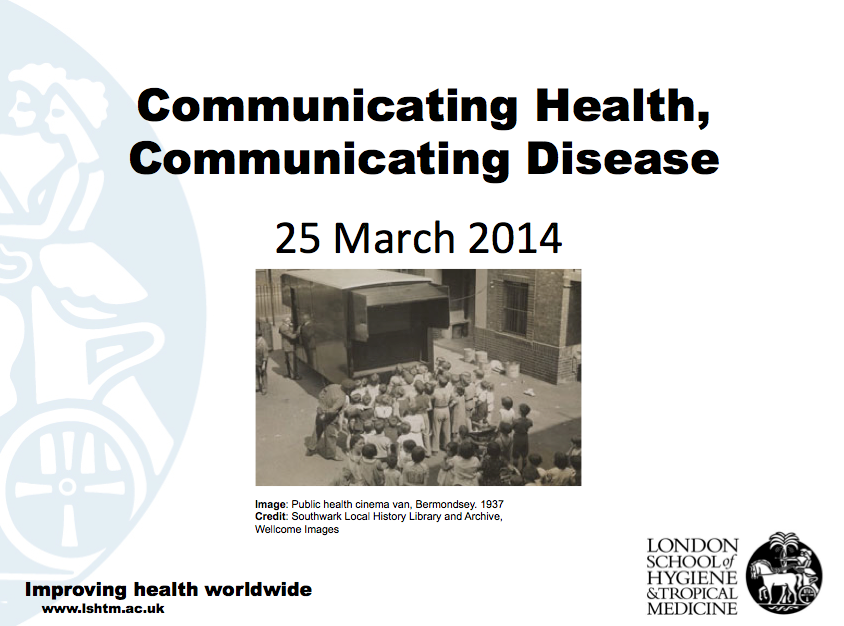 Tuesday 25 March 2014, 5:30-7:30pm.  Manson Lecture Theatre, LSHTM Keppel Street, London
This film screening and discussion explores the changing ways in which ideas about infectious disease have been communicated to us over the past 50 years. Beginning with a film about infection and hygiene in hospitals in 1963 and ending with a film about swine flu and vaccination in 2009, this session will examine the evolution of how public health messages are presented to the public.
The themes we will explore together include:
continuities and changes over time in both the content of the films and how they were presented
the kinds of behaviours that were being encouraged by the films; and
how the film-makers envisaged the public.
We will also examine what we think of these films now through discussion between an academic panel and event attendees. We hope to discover not only how public health messages have changed, but also how our views of public health have altered over time.
On the panel will be:
Alex Mold (Lecturer in History and panel Chair, LSHTM)
Anne Marie Rafferty (Chair of Nursing Policy, Kings College London)
Catherine Dodds (Lecturer in Health Policy with a research background in HIV treatment and prevention, LSHTM)
Sandra Mounier-Jack (Lecturer in Health Policy currently exploring vaccine adoption, LSHTM).
Heidi Larson (Senior Lecturer in Anthropology, interested in issues around vaccines and trust, LSHTM)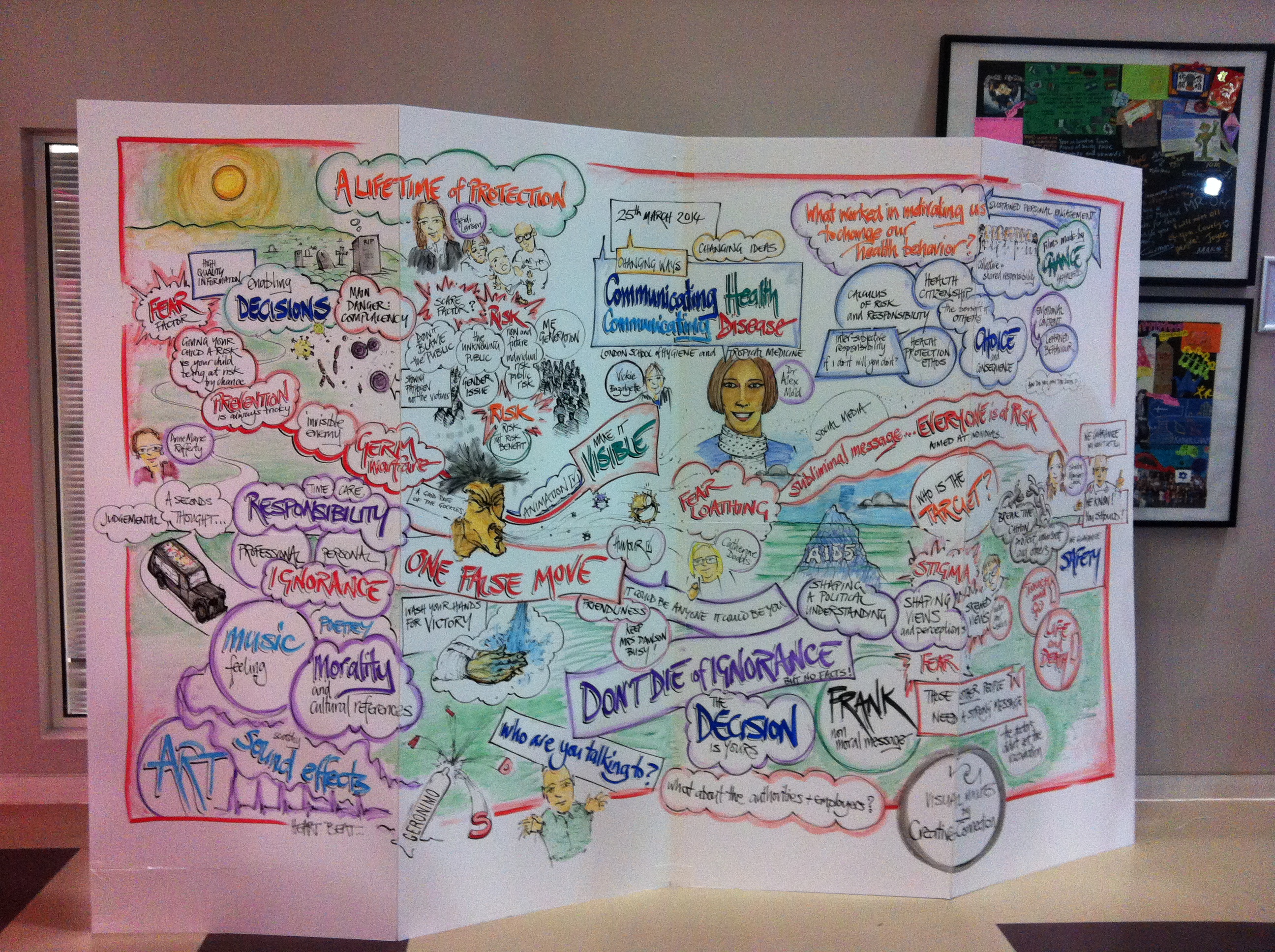 Photo of Visual Minutes produced by Creative Connection. Photo by Alex Mold
Below you will find links to all of the films and the film of the discussion session after each film.  For a full account of the session, read this blog post or this article in the Lancet Infectious Diseases.
Introduction by Alex Mold
Film 1: 'Immunisation: A Lifetime of Protection', (1970s) Credit: Wellcome Library
Discussion by Heidi Larson
Film 2: 'One False Move', (1963) Credit:Wellcome Library
Discussion by Ann Marie Rafferty
Film 3: AIDS films, (1980s-1990s) Credit: Wellcome Library [please note full selection shown unavailable]
Discussion by Catherine Dodds
Film 4: Swine Flu: Why You Should Get Vaccinated (2009) NHS West Midlands
Discussion by Sandra Mounier Jack